Things to do in The Algarve
This popular holiday destination is renown for it's unique beauty, blue skies and warm weather throughout the year! We have a wide variety of unique luxury villas in Portugal and across The Algarve, so there's bound to be the perfect holiday villa for you listed by Unique Luxury Holidays. Take a look at these exquisite villas here!
Lots to do!
The Algarve enjoys around 3,000 hours of sunshine every year - that's about eight hours every day - so whatever time of year you go, you're virtually sure to enjoy fine weather and long warm days.
Cloudless skies are almost guaranteed during high season, between May and October, whilst in peak season, temperatures are around 25 to 30°C. However, you can expect cool Atlantic breezes to keep temperatures comfortable.
Autumn is the busy season for golfers since cooler offshore breezes make this an ideal time of year for playing, but you can sunbathe and swim well into October - then in both spring and winter, the temperatures remain around an exceptionally pleasant 15 to 18°C.
All that sunshine is concentrated on an area of land approximately 240 kilometres from east to west and 40 kilometres from north to south, so it's relatively easy to explore the whole area within a short time, especially since the roads are so good, and they have excellent bus services throughout the area.
The Portuguese are famed for their warmth towards visitors, though the national character is somewhat different from the effusiveness found in many Mediterranean countries. Portuguese people have a quiet sincerity and unfussy friendliness that is very endearing and draws hundreds of thousands of people back to the county year after year, to stay in our luxury villas in Portugal.
You can divide the Algarve into three main areas - West, Central and East - each having its own personality and characteristics. Wherever you go the area is dominated by the Atlantic Ocean, which has shaped the entire coastline.
Its presence has shaped the national character, making the Portuguese a seafaring and exploratory nation; its bounty has influenced the cuisine, with fresh seafood being ever-present on most restaurant menus - and its ceaseless movement forever draws visitors to the Algarve's magnificent coastline, which creates the very best memories for most visitors to this beguiling region.
Take some to look at our amazing luxury villas in the Algarve
West Algarve
Beyond the town of Lagos, heading towards the tip of the Algarve, you enter its western region - and as you travel further west, you'll notice how the power and might of the Atlantic have had an increasingly awe-inspiring impact on shaping the coastline.
With increased ruggedness comes a shift of vegetation, too; whereas central Algarve is lush and Mediterranean in its flora and fauna, the west has an Atlantic feel that you might recognise from the west coast of Scotland or the Atlantic coast of Ireland - coarse scrub and grasslands, combined with magnificent cliff-top scenery and the opportunity for superb walks along rocky headlands.
Sparser in population than central Algarve, the west has just three principal resorts along its coastline - Luz, Burgau and Sagres. Luz is definitely the most upmarket and holiday-oriented, though there are some particularly fine coastal walks nearby - especially if you travel east along the coast from the village centre to the triangulation point on a 40-minute round trip that will reveal splendid coastal views.
A little further to the west is the pretty resort of Burgau, which has a maze of cobbled streets stretching down to a sandy beach beneath low cliffs. Fishing is a major source of income for the locals, so you can expect superb seafood here, and local people cook up delicious dishes on grills right outside their homes!
If you're in Burgau, it's worth travelling a little further west to Boca do Rio, where a deliciously unspoilt bay is situated beneath the ruins of a 17th-century fortress. Once an important Roman settlement, many artefacts from the area can now be seen in the excellent Museu Regional in Lagos.
Right next door to Boca do Rio is the small fishing village of Salema, which you approach along a richly cultivated valley. Easy-going and low-key, this is a spot well off the tourist trail, and gives you a real feel for the local life of western Algarve, a world away from the hustle and bustle of its central region. One of the area's most magnificent beaches is the Praia de Figueira, which you can reach on foot from the small inland village of Figueira. Walk through fields still tilled by mules to a magnificent beach which is usually all but deserted.
Almost at the very end of the continent of Europe is the town of Sagres, the southwesternmost harbour in Europe. Stretching along a cliff-top and close to spectacular beaches, it's a mecca for surfers, and a great jumping-off point for Cabo de Sao Vicente, the westernmost headland of Portugal crowned by a fine lighthouse. Wherever you go in this area, you'll be reminded of the historic presence of Henry the Navigator, the 15th century explorer who created a school of navigation in Sagres.
Turn north from here and you'll discover the Algarve's west coast, whose nature is entirely shaped by the full onslaught of the Atlantic Ocean. A haven for surfers looking for big waves, its rocky, uncompromising coastline attracts those in search of adventure and a desire to escape the holiday crowds. Well worth taking time to explore, the west coast gives you yet another insight into the extraordinary diversity and differences you'll find in the Algarve.
Recommendations for West Algarve
Dolphin watching from Lagos: 1-2 hours
www.seafaris.net
There are daily boat trips from the Marina de Lagos to see dolphins and other Algarve marine life. You'll take a journey past the famous grottos of Ponta de Piedade, see the beautiful scenery of the Algarve coastline - and you can also take a glass-bottomed boat-ride or enjoy a sea-fishing trip.
Algarve 4x4 Safari: 1 day
There are daily boat trips from the Marina de Lagos to see dolphins and other Algarve marine life. You'll take a journey past the famous grottos of Ponta de Piedade, see the beautiful scenery of the Algarve coastline - and you can also take a glass-bottomed boat-ride or enjoy a sea-fishing trip.
Quinta dos Vales Wine and Arts Centre: 1 day
This internationally recognised wine estate is also a centre for arts, complete with a small animal farm. Located near Portimao and open daily, the 50-hectare estate is situated in the hills and offers wine-tastings and guided tours of the winery and gardens.
Slide and Splash: 1 day
This is one of the biggest waterparks in Europe, with an abundance of exciting water slides, swimming pools, sun loungers and waterfalls. Located near Lagos, it offers an excellent day out for all family, plus there are restaurants and cafes for lunch and refreshments, as well as free car parking.
Porches Pottery: 1-2 hours
See artists at work in this famous pottery workshop. Housed in a traditional Algarvian farmhouse, it offers beautifully handcrafted tea sets, wall plaques, dishes and platters. You can also the Bacchus Bar for a drink and a bite to eat, and admire some stunning tile murals.
Alvor Boardwalk: 1 hour - 1 day
Alvor is one of the Algarve's most popular destinations and has as easily negotiable wooden boardwalk that runs along the beach and river estuary. On the route, there are fabulous views, and the opportunity to see the countryside well away from local tourist areas.
Church of St Anthony, Lagos: 1-2 hours
A historic museum and church and church, the Igreja de Santo Antonio is one of the few buildings to survive the earthquake of 1755. it features a "golden chapel" and a fascinating collection of artefacts, some dating back to the Roman Empire. You'll also be able to see elaborate wooden carvings and a history of the Lagos area.
Fortress Sagres: 1 hour
On a windswept shelf-like promontory in Sagres, this 16th-century fortress was severely damaged during the Great Earthquake of 1755. it was restored in the mid-20th century, but there is still a 16th-century turret present. if you love history, these iconic ruins are a must.
Convent of San Jose: 1-2 hours
Dating back to the 18th Century, the Convent housed members of the Carmelite order of nuns. Originally built from limestone, the small chapel was restored in the 19th century and now occasionally holds music performances. There is a small art gallery with temporary exhibitions throughout the year.
International Sand Sculptures Festival, Pera: 1-2 hours
Every summer (May-Oct) cultural events organisation, Prosandant, creates a fantasy world using only sand. Artists transform 40,000 tons of sand into a 1500 square-foot exhibition area of three-dimensional imagery, and some sculptures are 12 feet high. There is music and other entertainment, making it an excellent family event.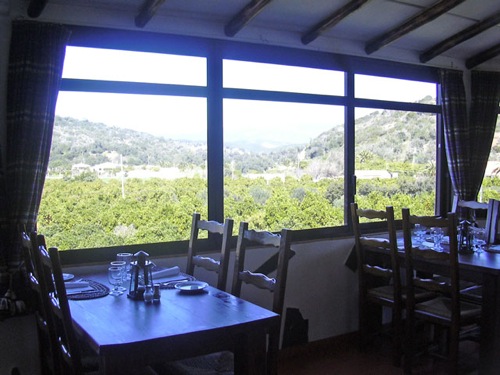 Restaurante Solar do Farelo, Portimao
A traditional family restaurant in the inner Portimao area, it's about 6km from the Meridien Penina Golf Hotel and 11km from Alvor. From the dining room, there is a lovely view of orange groves, with beautiful Serra de Monchique in the background. It serves exquisite seafood dishes and has a fine wine cellar.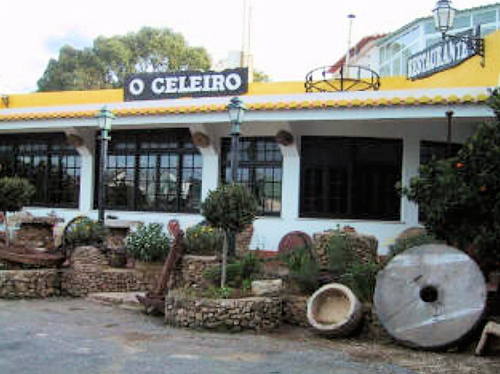 O Celeiro, Lagos
This stylish restaurant has great rustic charm and serves traditional Portuguese cuisine in a friendly, family atmosphere. Wild boar stew and seafood are amongst the top recommendations of the house, plus they offer a very reasonably priced and tasty house wine.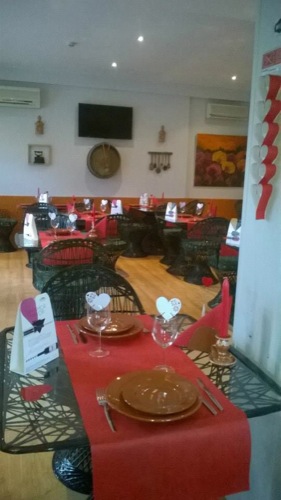 Pretisqueira O Rodrigues, Portimao
A fairly recent, family-run restaurant, it offers a fantastic array of tapas dishes made from fresh produce and served straight from the grill. Perfect for children, there is a small play area where the kids can have fun after dinner. The overall atmosphere is relaxed and welcoming, both day and night.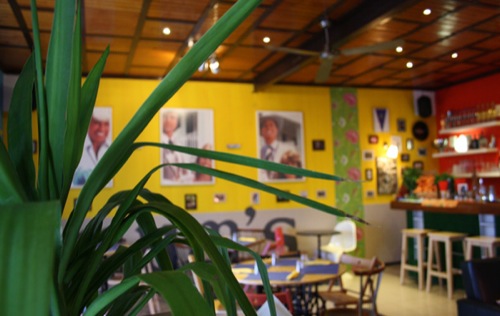 Mum's, Sagres
This family restaurant and cocktail bar have a cosy, comfortable atmosphere, and they focus on slow-cooking with lots of flavours. The menu is varied, from Japanese soup to Italian bruschetta, and they serve a variety of tasty vegetarian dishes, as well as fresh local fish and delicious cocktails.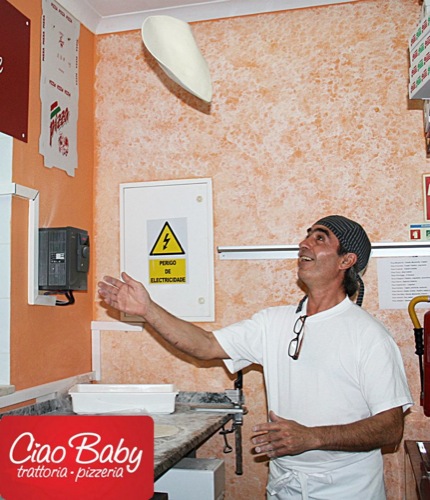 Ciao Baby Pizzeria & Trattoria, Alvor
This excellent, welcoming Italian gem is right in the centre of Alvor and is run by chatty, friendly owner, Giovanni. There's a gorgeous choice of pasta, pizzas and delicious home-made tiramisu - and live music is a regular occurrence. Check out their great range of reasonably priced wines.
Praia do Amoreira
This piece of paradise is enhanced by a beautiful estuary. Full of tide pools that are home to local starfish and sea urchins, this makes it perfect for kids to explore. The surf is also excellent and there are several surf schools along the coast. A car is needed to get there, but it's well worth the drive.
Praia de Odeceixe
This is a perfect spot for surfing, and the beach is surrounded by a highly dramatic coastline. Situated in the north-west region of the Algarve, car parking is a short walk away from the beach, and a local café serves local dishes of black pork and fish of the day to hungry swimmers and surfers.
Meia Praia
This beach is popular with windsurfers and surfers since it faces the open Bay of Lagos and is protected to the west by the promontory of Ponta da Piedade. The beach has plenty of beach bars serving refreshments and snacks, and this is a great place for a short stroll or long, leisurely walks.
Praia do Burgau
Praia do Burgau is beautifully clean, with golden sands, and there is a lovely restaurant overlooking the beach. In summer, it buzzes with activity, whilst in winter months, the beach is virtually deserted, and its sheltered bay is ideal for enjoying the peace and sunshine.
Praia da Bordeira
This beach offers three glorious kilometres of uninterrupted sand, with sand dunes and nearby lagoons of warm water near the river mouth, where it's still possible to see otters. The beach is framed by lines of ancient pine trees that grow amongst the dunes and provide welcome shade in summer.
Central Algarve
With its west-to-east orientation along the southern, Atlantic-facing coast of Portugal, the central Algarve is that area between Faro in the east and Lagos in the west. Faro is the regional capital, with an international airport that welcomes the majority of visitors to the Algarve - yet wherever you're staying in the region, you're never far from the airport, and the excellent fast road, the A22, runs parallel to the coast from west to east for easy access to all areas.
The central area of the Algarve is, without doubt, the most popular, and it's here that you'll find the greatest concentration of coastal development, as well as resort hotels and golf courses, many of them slightly inland from the coast. At the same time, though, there are many natural attractions in the central Algarve that create an irresistible balance between the sophistication of five-star holiday living and the natural beauty of an often unspoilt coastline.
The jewel in the crown of the central Algarve is the 'golden triangle' of Quinta do Lago, Vale de Lobo and Vilamoura, which hug the coast to the west of Faro. This is where you'll find the majority of upmarket resorts, accompanied by large golf complexes, restaurants, shops, tourist beaches, and a host of family entertainments.
Yet right in the heart of this tourist area is the westernmost edge of one of the Algarve's most spectacular natural parks, the Parque Natural da Ria Formosa, an incredibly important wetland area for flora and fauna that is well worth discovering. Stretching along the coast for many miles, the Park comprises a series of sandspit islands, saltpans and low-lying areas that attract migrating birds from all over the world.
To the west of Vale do Lobo area are some of central Algarve's finest areas of coastline, with small bays interspersed with rocky headlands and sea-carved grottoes. The coastline is at its finest around the resorts of Albefueira, Armacao de Pera and Carvoeiro, with major tourist beaches to be found at Galé, Praia da Rocha and Alvor.
It would be easy to spend your entire holiday enjoying the leisure activities offered by your hotel, or lazing on one of the many fine beaches of the central Algarve, but there's so much worth seeing in this fascinating area. The city of Faro itself, though a bustling regional capital, has a fascinating central area, with harbourside gardens, a semi-walled old town and an excellent choice of independent shops. It's been the administrative capital of the Algarve for over 300 years, though it also has strong Roman and Moorish influences which can be seen in the local architecture.
The town of Lagos is at the western extremity of the Algarve's central region and is also well worth a visit for its historic centre enclosed by 14th-century walls. It's also close to spectacular beaches on either side of the town, and Lagos Zoo makes an excellent outing for families.
Don't forget inland central Algarve as well; this is a green and fertile landscape of rolling hills and agriculture, within which you'll find the delightful former Moorish town of Silves, which has remained virtually unchanged for centuries. With a superb cathedral and magnificent castle, the town is surrounded by fragrant orange groves.
Recommendations for Central Algarve
Surfing off Faro Island: 1 day
This is perfect if you're looking to escape the crowds and explore the water. There's great surf to be found here, often with offshore morning breezes. Faro Island can be reached by ferry and has endless white sands, crystal waters and excellent waves (beginners April - Aug, pro surfers Nov-Feb).
Aquashow Water Park, Quarteira: 1 day
Aquashow has the biggest wave pool in Portugal and is a day resort that's suitable for all the family. If waves are not your thing, try the classic swimming pool or the Jacuzzi - and for an adrenaline rush, there's the Wild Snake for a 16-metre ride in the pitch black!
Horse-riding nr Quinta do Lago: 1/2 day
Pine Trees Riding Centre
Situated between Quinta do Lago and Vale do Lobo, this horse-riding centre offers qualified riding instructors and first aiders, with teachers who can speak English, Portuguese, French, Spanish and German. Beginners can enjoy the countryside on a horseback nature walk
Tennis Lessons, Quinta do Lago: 1/2 day
www.playtennisalgarve.com
Jim Stewart's Tennis Academy (JSTA) in Quinta do Lago offers instruction to people of all ages and abilities, plus it has a great social scene too. There are plenty of courts, expert instruction, and a welcoming atmosphere that will put you at your ease and bring out the best in your game.
Karting, Almancil: 1/2 day
First opened in 1992, Almancil Karting is a total leisure and competition complex available to all lovers of karting! The main track is a 760m length replica of a former Formula One Brazilian race track - and the course is open to kart drivers of all levels of skill and experience.
Faro: 1-2 days
Algarve's capital has a more distinctly Portuguese feel than most resort towns. It has an attractive marina, well-maintained parks and plazas, and a historic old town full of pedestrian lanes and outdoor cafes. Its student population of 8,000 ensures a happening nightlife, and it has a great theatre scene.
St Lawrence Church, Almancil: 1-2 hours
This 17th-century church is considered one of the greatest artistic treasures in the Algarve. Extraordinary examples of Portuguese azulejos (traditional blue and white tiles) cover the walls and ceilings, and the gilded Baroque altarpiece is believed to be crafted by the Algarve's greatest sculptor and carver, Manuel Martinez.
Milreu Roman Ruins: 1/2 day
Situated only a few kilometres from Faro, close to Estói, these are amongst the most important Roman remains in the Algarve and now form an imposing archaeological site. The ruins include a manor house, farm buildings, a wine press, baths and a temple.
Faro Cathedral: 1 hour
Faro Cathedral was first built on the site of a Roman forum-turned-mosque in 1249. With its mix of Renaissance and Baroque influences, Faro Cathedral includes fabulous seventeenth and eighteenth-century tiling and gold leaf decoration. Climb the bell tower for amazing panoramic views of Faro.
Santa Barbara de Nexe: 1/2 day-1 day
The village of Santa Bárbara de Nexe is set amidst sweeping hills between the sea and the Sierras. A peaceful Mediterranean ambience together with a delightful location makes this a very special place, and the area is known for its accordion-based music traditions and artistic stonework.

Izzy's Beach Bar, Vale Garrao
Izzy's offers you the ultimate beach bar experience; set right on the beach at Vale Do Garrao, it has amazing panoramic views of the Atlantic Ocean, a laid-back atmosphere, great food and friendly service. Live music is played on Saturday and Sunday afternoons, making it a magical place to relax at the weekend.
Evaristo Beach Bar, Vale Garrao
This restaurant has a great location directly on the beach at Evaristo, several kilometres west of Albufeira. There is no menu list; you choose your fish or seafood before you sit down and it's cooked to your liking. All produce is fresh and delicious, and you can enjoy your meal on the terrace overlooking the beach.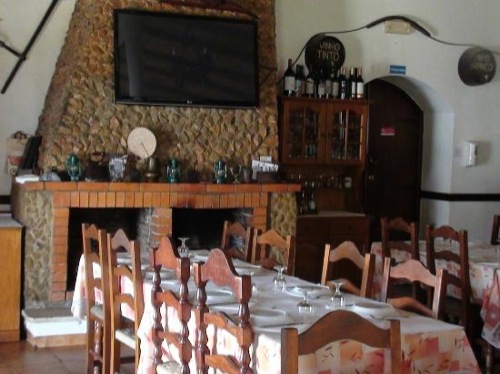 Retiro da Campones, Vale Judeu
A traditional country Algarve restaurant, it serves traditional cuisine - especially fresh seafood of the region. The service provided by the restaurant staff is professional, efficient and very friendly, and they have some fantastic typical Algarve desserts, adding up to a totally authentic dining experience.
Tuttapanna, Vilamoura
This great little place serves the best Italian pizza in town! Food is all freshly made and the lasagne is delicious. With excellent, friendly service, it can get very busy, so expect longer waiting times (always worth the wait!). This is a very family-friendly restaurant and perfect for small children.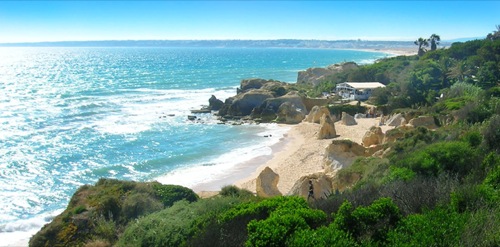 Vila Joya, Albufeira
A two Michelin-starred restaurant, this exceptional dining venue serves up delectable dishes to a discerning crowd, for whom dress code is casual-elegant. With an exceptional restaurant, this is likely to be some of the best and most sophisticated cuisines you're likely to find in the Algarve.
Praia da Falesia
This beautiful beach takes its name from the fascinating red cliffs that form a backdrop to the endless stretches of sand you'll find here. The beach is located west of Vilamoura (before reaching Olhos de Água) and there are several restaurants, as well as plenty of parking.
Praia da Gale
This gorgeous beach is located to the west of Albufeira and runs around the Bay of Armação de Pera to the town. There are plenty of restaurants and cafes for refreshments, and you can rent boats and participate in a range of watersports activities - an ideal spot for children and families.
Praia de Albandeira
Amazingly, this jewel of a beach is completely off the tourist radar. Tiny, with white sands between ochre rocks, it offers simply a rustic wooden bar above the beach. Head beyond the cliffs behind the beach and you'll find Suites Alba, which has great cuisine.
Praia do Ancao
This endless, golden, blue-flag beach is popular with families, thanks to calm seas, lifeguard and protective dunes behind the beach. There are sunbeds, sunshades and boats to rent, as well as great water-skiing. Dois Passos, one of the Algarve's best fish restaurants, can be found here.
Praia da Marinha
This white sandy beach nominated one of the 10 best beaches in Europe by the Michelin Guide, lies at the bottom of a rocky outcrop via several flights of stone steps. Praia da Marinha is one of the best places in the district for snorkelling, and boats depart from here to visit local caves.
East Algarve
With its proximity to the border with Spain, there is an increasing Spanish influence in eastern Algarve, though many people maintain that this is the area where you'll appreciate the Algarve at its most natural and local in character. The coastal landscape is low-lying, so beaches tend to be long, flat and ideal for serious sunbathing - and the area has several resort towns that retain much of their original village character.
One of the principal towns of the eastern Algarve is Tavira, a low-key resort located on both sides of the Rio Gilao, a slow-moving and reedy river. There's a delightfully picturesque old town, plus a lovely offshore island, the Ilha de Tavira, which is the destination of most visiting sun-worshippers. Accessible by ferry, it can also be reached by a small train, which is a particular delight for children.
Further eastwards, the old fishing village of Cabanas is a charming spot on a river estuary - and from here, you can take a ferry across to the long sand spit of Praia de Cabanas, where there's mile after mile of golden sands, with a couple of seasonal beach cafés providing refreshments.
Keep travelling along the coast, and protected by the long sand spit of the Praia de Cabanas, you'll come to the charming whitewashed village of Cacela Velha, which is blissfully tourist-free. There's a church, an old fort, but very little else to tell you that you're in the 21st century - though come here in July for the Moorish Nights Festival, and it's a very unusual story; the community is transformed into an Arabic village, with a souk, food stalls and live Arabic music that all acts as a reminder of the area's Moorish and Arabic past.
Manta Rota is the first location east of Tavira where you can actually get to the beach by land - and it's a real treat of a beach as well. Broad and sandy, it's backed by a palm-fringed square at the heart of the resort - and heading eastwards, the beach continues in an unbroken line all the way to the Spanish border, though that will take a good two hours' walking in each direction.
Inland from Altura, again heading eastwards, is the modern resort town of Altura, whose influence ensures that the beach is well stocked with umbrellas and sun-loungers - and there's an excellent range of watersports to be enjoyed here, giving the beach area a lively holiday feel - especially with the influence of cheerful Spanish tourists, many of whom come for the day from across the border.
With just a few miles to go before Spain begins, there are still a few delightful surprises worth investigating, one of which Praia Verde, whose wooded slopes stretch down to the beach to create a cool, welcoming feel. The beach is decidedly quiet and undeveloped here, with just a couple of cafés and restaurants.
Finally, you'll come to Monte Gordo, which unashamedly represents tourism in all its many guises. There's an annual Harley-Davidson bikers' festival in June, which is brilliant for people-watching - and with a sea-front casino attracting high-rollers, there's a fascinating feeling of glamour and bling that's almost unique in the whole of the Algarve. Beyond Monte Gordo is the Rio Guadiana, a river that marks the border with Spain - and even here, you'll catch a glimpse of genuine old Algarve; look out for local cocklers, who dredge the soft sand at low tide for the cockles that will end up on your delicious local seafood platter!
Recommendations for East Algarve
Kite Surfing: 2 hours - 1/2 day
www.kitesurfeolis.com
Try the sport of kitesurfing on the beautiful beach at Cabanas de Tavira island.
Classes are taught in several different languages. with a teaching ratio of 1 teacher to 2 pupils. All standards are catered for, from absolute beginners to experienced kitesurfers who want to improve their skills.
Birdwatching Tours: 1/2 day - 1 day
The Algarve has a wonderful variety of birds, with a wealth of breeding habitats - and the area is a perfect stopover for migrating birds. Group and individual birdwatching tours are available with friendly, experienced guides, and you're assured of seeing a fascinating range of birds in different habitats.
Kayak Tour from Tavria: 1-day
www.portugal-sport-and-adventure.com/algarve-kayak
Departing from the historic town of Tavira, you'll head out to a lovely deserted beach where you can enjoy lunch, followed by kayaking lessons and snorkelling. See an abundance of wildlife in the air and on the water - plus you can enjoy a good physical kayak workout in the process!
Guided walking tours in Tavira: 2 hours
Guided walking tours Tavira
Enjoy a peaceful walking tour through the saltpans of Tavira, and learn about the history salt extraction. There's plenty of wildlife to be seen - and take time to discover the lovely town of Tavira as well. There's plenty to see, and the town boasts some superb restaurants.
Ferry to Tavira island: 1 hour - 1 day
Tavira Island is south of Tavira and can only be reached by boat, which departs regularly from the town itself, and from Quatro-Aguas, and takes about 5 minutes. The island is 11km long and is considered to have one of the best beaches in the Algarve; it includes some naturist areas.
The Town of Santa Luzia: 1/2 day - 1 day
2 km from Tavria, this quaint traditional fishing village is well worth taking time to visit and is known as 'Capital do Polvo' ('Octopus Capital') which is the local speciality featuring in much of the town's cooking. You'll find an amazingly diverse range of octopus dishes in the many local restaurants.
Vila Real de Santo Antonio's lighthouse: 1/2 day
This eastern-Algarve town is home to a beautiful 1920s lighthouse - but unlike other lighthouses, this one isn't located near the sea, since it's separated from the ocean by a large area of pine trees. The lighthouse illuminates the entire beach when in operation, giving the area an especially romantic feel in the evenings.
Castro Marim: 1/2 day
Steeped in history, this is the site of an ancient settlement on a large hill that was visited by the Phoenicians, Greeks and Carthaginians. There are a small archaeological museum and several displays on the history of the region. In August, the 'Dias Medievais' (Medieval Days) event is well worth attending.
Torre de Tavira: 30 minutes
This high vantage point (formerly a water tower) offers panoramic views of Tavira and the surrounding area. It's situated next to Igreja de Santa Maria, and houses a Camera Obscura, which uses a rotating mirror and magnifying glass to project a 360-degree 'tour' of Tavira onto a large screen.
Ria Formosa Wetlands
This magnificent patchwork of blue lagoons, white beaches and green islands covers a 60 km area and is formed by five barrier islands running parallel to the ocean, protecting shallow, warm, brackish lagoons that display an amazing amount of wild and plant life. Guided tours and boat trips are available.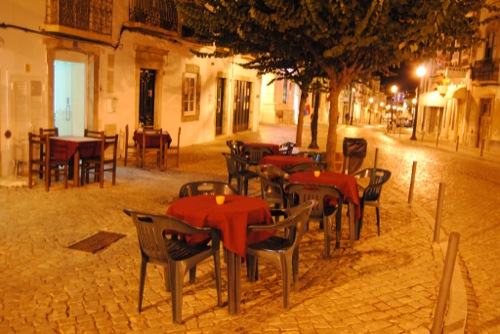 Castelo Cafe & Restaurant, Tavira
This intimate restaurant has a warm atmosphere and serves some of the best Portuguese steaks in Tavira. Reasonably priced and of consistently good quality, the cuisine is cooked and served fresh, so waiting times might be higher than average, but the food is well worth the wait. Book a table so as not to miss out!

Cha Com Agua Salgada, Manta Rota
A fabulous modern eatery right on the beach, this restaurant offers indoors and outdoors cuisine in a beautiful setting. There's excellent seafood such as rock lobster risotto and giant red prawns - and this restaurant is perfect for a relaxed, warm, romantic evening out, right on the ocean.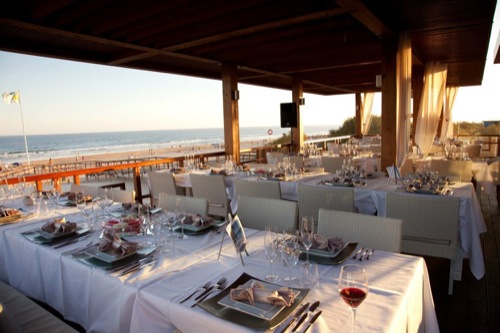 Pezinhos N'Areia, Castro Marim
This superb restaurant is right on the beachfront and is perfect for evening meals or casual afternoon snacks. The views are breathtaking as dusk falls and their range of local fish is served in generous helpings. They also have an excellent choice of wine and cocktails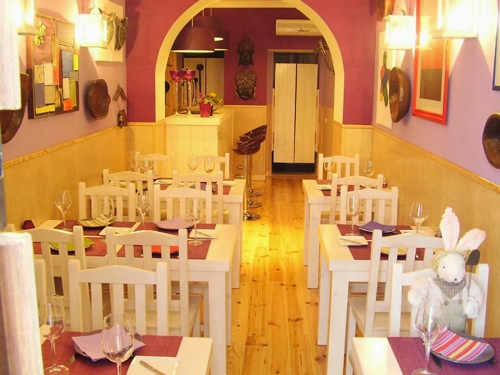 A Taska, Tavira
This small, attractively quirky restaurant serves local produce wherever possible, with love and always with care. The décor is relaxed, colourful and fun, and the restaurant always seems to be busy so it's a good idea to book beforehand. Their steak served on a hot stone is a real treat and their local wines are outstanding.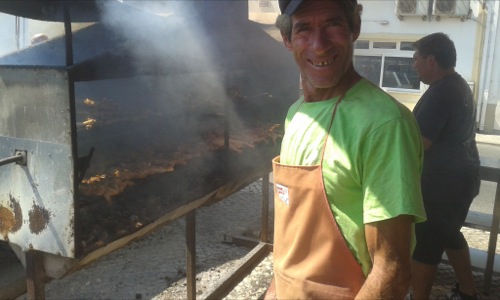 Casa Corvo, Fuzeta
This no-nonsense, no-frills, packed-with-character café/restaurant serves amazing seafood, grilled on their huge outside barbecue grill. King prawns, delectable sardines and salmon are especially delicious (served with bean and rice) - and two people can easily eat and drink here for just 20 Euros!
Praia do Barril
To reach this fabulous sandy beach, you need to cross a narrow footbridge across an estuary (Ria Formosa), then continue on foot or on the small tourist train until you reach the beach. You can also visit the 'Anchor Graveyard', where the tuna-fishing boats once fixed their large nets.
Praia da Armona
This is a spectacular stretch of sand located at the western end of the island of Armona, which forms part of the Ria Formosa National Park. You can only get there by ferry, which leaves from the fishing port of Olhão and takes about 30 minutes - and it's well worth the trip
Tavira Island
You can reach this beach by a 15-minute ferry from Tavira, and you'll discover miles of white sand as far as you can see. It's a beautiful, peaceful stretch of sand with plenty of bars and restaurants nearby - and for the more daring, there is a nudist section to the beach.
Praia de Monte Gordo
This extensive flat beach attracts both residents and holidaymakers all year round. The waters are some of the warmest in the Algarve, and it's easy to get to, plus there are plenty of amenities both on the beach and nearby. This beach is especially family-friendly and so is popular during the high season.
Fuzeta
These beaches are mostly only reachable by boat and are therefore some of the quietest in the Algarve. Fuzeta itself is a delightful little fishing town and still retains an unspoilt charm. There are plenty of shells for children to discover in the shallow coastal waters, making it an excellent family destination.
Algarve
Key Holiday Facts:
Climate - one of the best in the world - 3,300 hours of sunshine per year, more sunny days than almost anywhere else in Europe.
Beaches - 2016 - 85 beaches in the Algarve awarded Blue Flags meaning they fulfil criteria including water and coastal quality, environmental info and education, safety, service and facilities. 500 miles of coastline. Considered best-valued destination by Lonely Planet in 2015.
Portugal is ideal for young families - don't be surprised when waiters and waiters try to spoil your kids in restaurants... it's a Portuguese thing!
Less than 3 hours flight from the UK - most resorts less than an hour from the airport.