Monkfish, chouriço and piquant pepper kebab
Cook this on the BBQ at your villa this Summer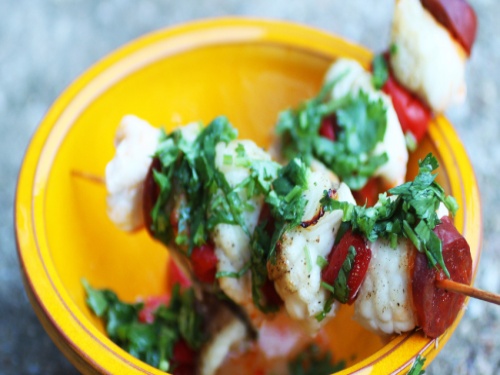 A delicious, light kebab which takes me straight back to those hot Portuguese summers. The meaty nature of the monkfish works very well with the chouriço whilst the peppers add a touch of spiciness which brings all flavours together. I drizzle these with chopped coriander soaked in olive oil for a touch of freshness.
Monkfish, chouriço and piquant pepper kebab
Ingredients
600gr monkfish tail (ask your fishmonger to remove the spice and cut it in cubes)
150 gr of chouriço (sliced)
100 gr of piquant peppers
Small bunch of coriander (chopped)
2 tbsp of extra virgin olive oil
Juice of half a lemon
Salt & pepper
Preparation
Pre-heat your oven at 180 ºC.
Using a couple of skewers, skew the fish, followed by the chouriço and the peppers. Repeat until all ingredients have finished.
Drizzle with one tbsp of olive oil and bake season with salt & pepper. Bake in the oven for 15 minutes.
In a bowl, place the coriander, the lemon juice, the oil and mix well. Serve each kebab, drizzle with the coriander salsa.