Ten good reasons why you should visit the Algarve!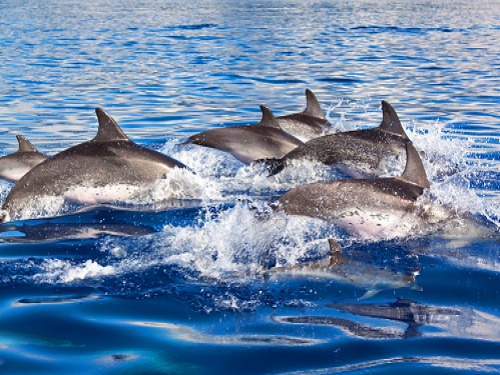 Actually, there are thousands of brilliant reasons why you should visit the Algarve, not least of which are its 3,000 hours of sunshine every year, its incredibly varied coastline, and its limitless ability to serve up holidays to suit everyone - whether it be to stay in our luxury villas, apartments or townhouses or a luxury boutique hotel. We have a fantastic range of villas and apartments in Quinta do Lago, Vale do Lobo, Pinheiros Altos, Martinhal Resort, Dunas Douradas, resort and beach club or the award winning Monte Rei Golf resort. But to get you started, here are just 10 good reasons why you should visit the Algarve:
A golfer's paradise - in central Algarve, there's probably the world's best collection of championship golf courses, laid out in gorgeous surroundings, and offering challenges that will up any golfer's game.
Surfing off Faro Island – if you've never tried surfing, you owe it to yourself to do so; and if you want to try some of the best in Europe, visit this gorgeous offshore island for the fabulous surf, especially when the morning offshore breezes kick in.
OK, here's one for the kids – the Aquashow Water Park, Quarteira – an unashamedly adrenaline-themed leisure destination with the biggest wave pool in Portugal and the fiendish Wild Snake - a 16-metre water-ride in the pitch black!
Praia da Galé – an absolutely gorgeous beach west of Albufeira, running round the Bay of Armação de Pera to the town. Lots of sand, water sports and safe bathing for children.
Faro – the area's capital and well worth a visit. Take time to visit the historic old town full of pedestrian lanes and outdoor cafes – and with a student population of 8,000, this place really rocks when the sun goes down!
Tennis Lessons, Quinta do Lago (http://www.playtennisalgarve.com/) - almost as iconic as golf, tennis is very popular in the Algarve, and Jim Stewart's Tennis Academy (JSTA) is the place to go to improve (or even begin) your game, plus there's a very cool social scene here as well.
Cha Com Agua Salgada, Manta Rota – this fabulous modern eatery is right on the beach, and serves excellent seafood such as rock lobster risotto and giant red prawns.
Karting, Almancil – fling your fiendishly nimble kart round a track that's a 760m length replica of a former Formula One Brazilian race track, and have the time of your life!
Dolphin watching from Lagos www.seafaris.net - daily boat trips leave the Marina de Lagos to see dolphins and other Algarve marine life. An unmissable experience amongst some of the sea's most magnificent creatures.
Algarve 4x4 Safari www.outdoor-tours.com/activities/4wd-nature - take a rural tour of the Algarve in a 4x4 jeep, and see places you'd never get to on foot or by car; tiny villages, orange and lemon orchards, plus the opportunity to sample local produce and visit local farms.
This blog was published by SEOBlush: Affordable SEO Services