Beach Club Bliss!

Beach Club Pine Cliffs is the ultimate blissed-out chill-out destination!

The staff of Unique Luxury Holidays are always prepared to go that extra mile to find the very best destinations in the Algarve, so a crack team of Unique volunteers recently descended on the Beach Club Pine Cliffs at the Pine Cliffs Resort to check it out on behalf of our valued clients. Arriving in strictly casual beach gear in the afternoon (but wisely packing some posher duds for the evening), Team Unique expressed universal delight at the casual, relaxed and mellow scrubbed-pine beach restaurant look – plus the fabulous beachside location is reputedly one of the best in the Algarve – and we wouldn't disagree.
The Beach Club Pine Cliffs cuisine is quite superb, thanks to the artistry of Lisbon celebrity chef Olivier da Costa, who operates three restaurants in Lisbon, and has also devised the menus at Longevity Wellness Resort and at the Sheraton Algarve. Starters of marinated anchovies, as well as octopus carpaccio with peppers, proved particularly tasty, whilst a main of charcoal-grilled stone bass fillet received equally enthusiastic approval.
As the afternoon waned and the evening blossomed into a rose-pink sunset, the daytime relaxation of the Beach Club subtly shifted into a cool Ibiza-style night-time vibe, and there was great live music on the occasion our team went.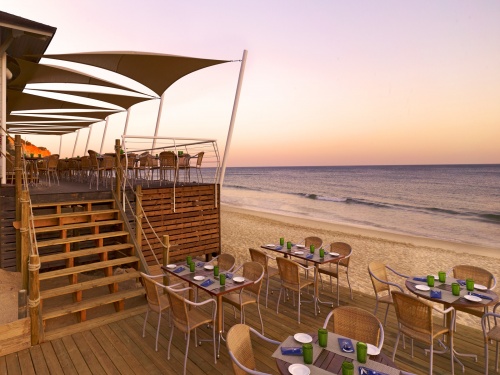 You could spend all day, every day of your holiday at this fabulous beachside location – and if you wisely choose to do so, then you can take advantage of an outstanding offer: stay in a Pine Cliffs Terrace or Villa this summer and you'll receive a complementary 100 euros per day credit on your food and drinks bill! Simply quote 'Pine Cliffs Experience' when booking with us and dine in your choice of nine amazing resort restaurants and bars at the Pine Cliffs Resort.*
*Offer excludes room service and Yakuza Japanese Restaurant, and only applies to bookings confirmed before the 15th August 2014