Villa Holidays in Barbados: A Slice of Heaven Brought Down to Earth
Boasting a population of approximately 270,000 residents and a total land area of 1,036 square kilometres, the Caribbean island of Barbados has attracted visitors since at least the 13th century. Whether you have been hoping to enjoy pristine beaches or a stimulating urban environment, the undeniable fact is that this slice of heaven offers something for everyone. Before examining why Barbados villa holidays have proven to be so very popular, it is a great idea to take a brief look at some of the amazing features which have served to define this island paradise over the years.
,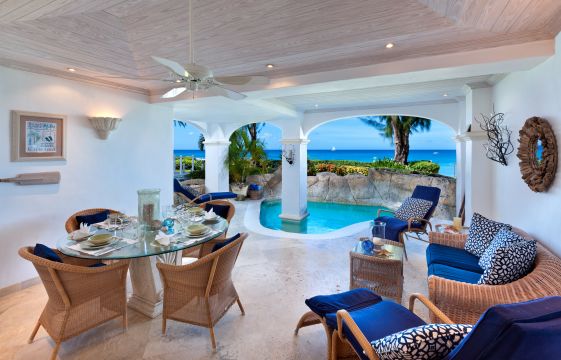 The Best Barbados Holidays: More Than Meets the Eye

Often referred to as "the jewel of the Caribbean", Barbados offers up a host of man-made and natural attractions. Anyone who has been searching for an unforgettable holiday experience will not be disappointed. What is in store and why does a villa rental represent an excellent option?
The Beaches and Weather

In terms of the climate and the weather, there are few locations on the planet which are able to match the splendour of Barbados. Due to the moderating effects of the sea, average daily temperatures hover at around 32ºC while the evenings tend to be warm and pleasant. Although tropical rains will inevitably occur from time to time, these serve to lower the humidity and to provide a cooling effect.

The beaches around Barbados are certainly not to be missed. Pristine white sands are flanked by cerulean blue waters; truly idyllic scenery. Popular spots such as Bathsheba, Holetown and Bridgetown are open to the general public and many are located quite close to major tourist attractions. Popular activities include glass-bottom boat rides, scuba diving, snorkeling and catamaran rentals. Hours of sun await.
The Natural Splendour

If you have been curious about where to go in Barbados, you should never miss its natural beauty. Massive national parks such as Barbados Wildlife Reserve will provide you with an unforgettable glimpse into the flora and fauna of this island. In fact, some species such as the red-footed tortoise and the Cuban rock iguana are specific to this region. You may also be able to sample a kaleidoscope of fresh fruits and vegetables; offering up all-natural flavours that will not soon be forgotten.
The Residents and the Culture

The residents of Barbados speak English and they are quite friendly. This is due in no small part to the fact that tourism represents a considerable source of revenue. Not only are they accommodating, but you can absorb their culture by visiting countless local restaurants, experiencing open-air shopping centres and soaking up the eclectic nightlife that cities such as Bridgetown have in store. There is indeed something here for everyone.
Convenience and Flexibility

As the island is relatively small, travelling from place to place is simple. There are a plethora of public transportation options such as buses and private taxis. In addition, you can choose to leverage the benefits of a car hire service if you hope to get an up-close-and-personal view of the surroundings.
What You Can Expect from Barbados Villa Holidays

The best Barbados holidays are often associated with renting a villa. While the natural beauty of this island is undeniable, the use of a private villa will take your experience to the next level. What are some of the incredible benefits associated with this type of accommodation?
The Benefits of a Self-Catered Holiday

Renting a villa will allow you to construct your own schedule. You can go to sleep when you wish and set your alarm for any time. You can choose to dine in and have your very own cook prepare a delicious meal or you can experience one of the many local restaurants. You will be able to experience a superior sense of privacy; a notable advantage when compared to a fully booked hotel. Finally, our luxury villas are available in a wide variety of styles and locations
All of the Modern Conveniences and Flexibility

Why not determine where to go in Barbados by accessing a free wireless connection within your villa? Indeed, all of the comforts that you have come to expect are only moments away. Fully equipped kitchens, spacious bathrooms, flat-screen televisions and air conditioning are only a handful of the perks which you can access on demand. As the cost of the villa can be split between multiple individuals, these properties also boast a cost-effective edge. A villa is ideal for families, couples, friends or even parties.

Above all, Unique Luxury Holidays will provide you with recommendations based around your discrete requirements. We are pleased to offer up expert advice as well as travel suggestions upon your arrival. It is our intention to make your stay as pleasant as possible. Thanks to our wide selection of villas, there is no doubt that you will love what is in store.