The Algarve – Villas within Walking Distance To The Beach and Restaurants
The Algarve is a beautiful region in Portugal, comprising of everything you could ever want or need on your holidays. With the purest turquoise waters and clear blue skies, you'll be basking in the sunshine throughout your visit. There are many things to see and do, including visiting incredible natural phenomenons such as the Ria Formosa, which will make your visit here one not to be forgotten.
We have a variety of villas in the Algarve with private pools, fantastic views and close to all amenities. With easy access to a wide variety of bars, restaurants and beautiful sandy beaches, you'll find everything you need right on your doorstep.
Amber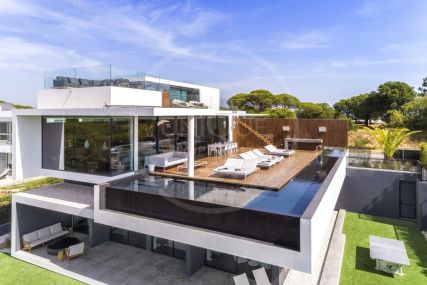 Amber is a cutting edge villa created with minimalistic design in mind. This fabulous four-storey structure re-defines villa living within a dazzling white environment and will be sure to give you the holiday of a lifetime. This magnificent property has a zen calmness flowing through it naturally lifting all who stay here and providing them with only the best of experiences. The private infinity pool in this property is certainly one of the masterpieces and the layout may make it seems suspended in space, floating in the sky, when in reality this villa is tethered by wooden decking festooned with white loungers.
Amber comes with advanced facilities such as the The games room which has a 65" TV with a 3D Dolby Atmos sound system, PlayStation 4, football table, Air hockey table and a 7ft Pool table. The infinity pool for this property is shaped as an 'L' meaning that decking could be placed in the middle, giving you great views of the pool and the horizon.
Amber is situated in In Vale do Lobo, close to the Praia do Vale do Garrão Nascente, also known as Julia's beach, where there are beaches so sandy white that you could only dream of being here when in reality you could be enjoying yourself here surrounded by bars, restaurants and eateries.
Coast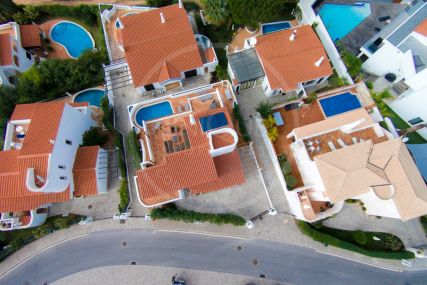 Coast is a modern contemporary villa that has views that will simply take your breath away. From the sea view you can take in at breakfast, to the starry night sky you get to witness at night, this villa has the wanted picturesque quality you've been searching for.
As well as sea views this property gives you golf views that can be enjoyed on the roof terrace whilst catching the beautiful warm sun. Coast is one of our many villas in algarve with private pool facilities that can be enjoyed with heating at an extra cost.
This property is located 20 km from the main airport, 1 km from the beach that you can see from Coast, 1 km from the nearest golfing spot, and 6 km from local shopping destinations.
Set in Vale do Lobo, this villa is a five minute walk from the main Praça where you can find the beach, restaurants and shops all in close proximity.
Casa Panorama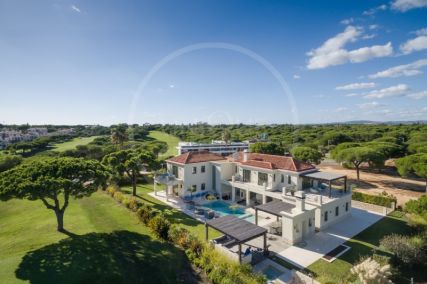 Casa Panorama is exactly how it sounds, luxurious quality with stunning views available. This modern villa has all the qualities wished upon when travelling abroad to make you feel amazing! From the jacuzzi and heated pool, to the barbecue spot where you can take in all of the horizon, you will not want to skip past this unique, charming property.
Inside Casa Panorama you can enjoy even more, there is a living room with a flat screen satellite TV, a DVD player, sound system and fireplace. There is also a cinema room, dining area, a sauna and an indoor jacuzzi. This property also consists of six bedrooms and six shower rooms!
This villa is located in the popular In Vale do Lobo, which is close to local golf courses and the main Praça, where you can find restaurants, bars and the sandy white beach. Casa Panorama has a distance of 20 km from the main airport, a 1 k m distance from the wonderful beach, 0 km from the golf facilities meaning you can walk across the road to find it and 1 km from the main shopping centre.
Villa Bruno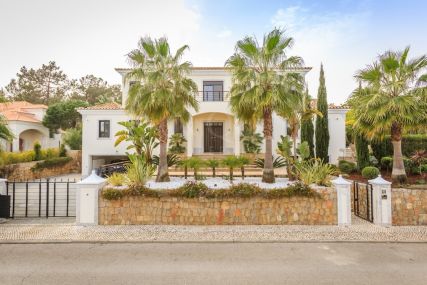 This naturally charming Villa Bruno is one of the many villas in Algarve with private pool facilities that we can offer. Villa Bruno comes fully equipped with absolutely everything you are going to need during your stay here. This property comes with maid service three times a week, a heated pool if requested, air conditioning, barbecue area, a terrace to enjoy the views, five bedrooms and much more.
Villa Bruno is situated in Encosta Do Lago within Quinta Do Lago, walking distance to the beach and restaurants, The Shack and Casa Do Lago Beach Bar and Restaurant.
Quinta do Lago is a secure community and golf resort in the beautiful sunny Algarve region of southern Portugal. Quinta do Lago is considered one of the most affluent areas out of the local communities.
This exhilarating location is based 17 km form the main airport, 1 km from a main golfing facility, and 5 km from main shopping entities.
To find out more about the exquisite villas we have available, why not contact us today on