Cave Exploring Along The Algarve Coast
The dramatic Algarve coastline is a fantastic place to explore. Its sandy beaches and crystal clear waters are popular with tourists, locals, and expats alike. But the real drama is within the Algarve's caves. Many of the caves are accessible by boat or on foot, if you know how to get there. But you can also explore them from the water, by swimming, kayaking, snorkelling, or paddle boarding through these dramatic rock formations. So where can you find these caves — and how can you see them best? As Algarve travel experts, we know all the best places to unearth the secrets of these incredible coastal caves. Let's explore some of the best caves in the Algarve.
Benagil Sea Cave, Carvoeiro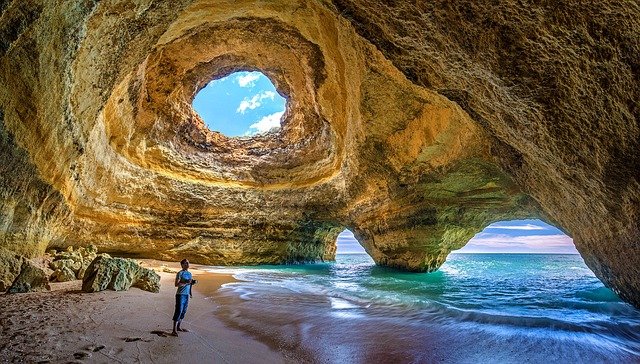 Perhaps the most famous cave in the region is the Benagil sea cave, located just east of Carvoeiro. Nestled between some of the most popular beaches in the Algarve, the Benagil sea cave's dramatic structure — complete with algar (a window in the roof) — is a must-see for anyone new to the Algarve. While it doesn't seem too far from the shore, you shouldn't attempt to swim to the cave — there are strong currents that can overpower even confident swimmers. Instead, take a boat ride out to view this magical cave safely. There are plenty of tour operators waiting to take you out to Benagil from various beaches along the coast, from Vilamoura to Albufeira. If you want to try something a little different, you can also reach Benagil with an organised kayak or stand up paddle boarding operator. These are a great way to explore the caves, especially if you're travelling with older children. See more of the best family friendly activities in the Algarve.
Elephant Cave, Lagos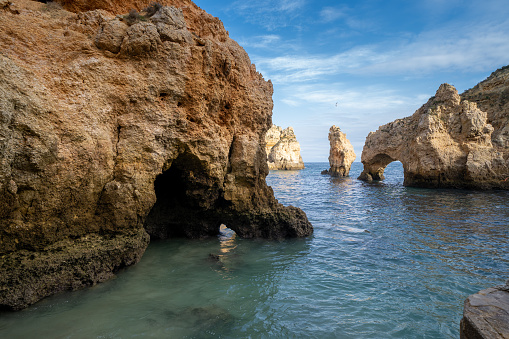 If you're staying in Lagos, you'll soon see that you're spoilt for choice when it comes to stunning cliffs, caves, and rock formations. But the best one to seek out is the Elephant cave. With a trunk that juts across the water and an eye-like divot in the rock, this cave bears an uncanny resemblance to its namesake. View the Elefante — as well as the dramatic Lagos cliffs and caves — from the coastal path that runs along the Ponta de Piedade, or take a boat ride out for a close-up view of the Elephant and surrounding rock formations.
Algar Seco, Carvoeiro
If you want to explore the caves but don't fancy a boat ride, there are plenty of caves and rocks you can explore on foot. Between Praia da Carvoeiro and Praia de Vale Covo you'll find Algar Seco, a cluster of caves that can be reached via a wooden walkway. These caves offer a dramatic view of the sea (as well as a spot of shade if you want to take a break from the sun). There are organised hikes and walking tours around this area, too, which are great if you want to learn more about the region's natural history.
Praia da Marinha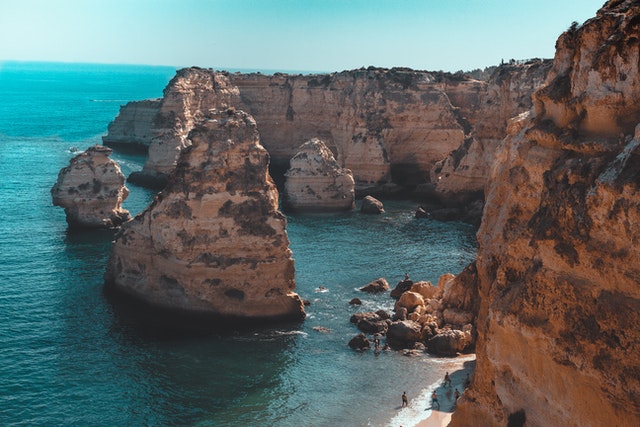 Just a short distance from the Benagil sea cave is the Praia da Marinha — a beach that's famous as one of the most beautiful beaches in Europe. Its calm, clear waters make it a great spot for snorkelling — so you can see the stunning Marinha arches at close quarters. These waters are generally safe for swimming, so don't miss this opportunity to swim up to and around the Marinha arches.
How to book a cave exploration trip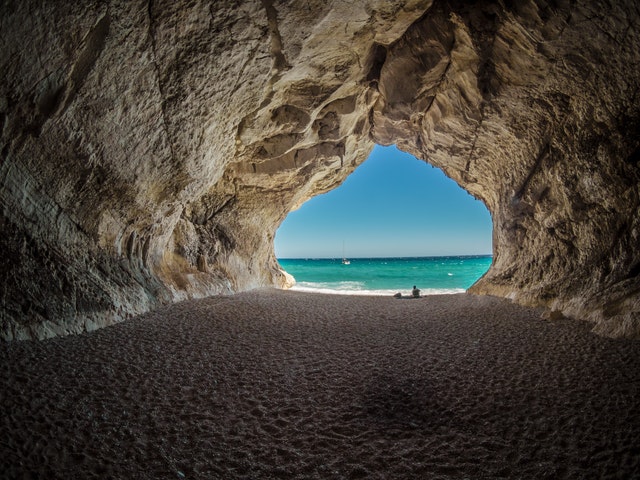 Cave exploring is an extremely popular activity in the Algarve, so there are lots of different tour operators along the coast. But it still gets very busy in peak season, so you may want to consider booking in advance to get the most out of your experience. You can spend anything from a couple of hours to an entire day travelling up and down the coast exploring caves, so it's a good idea to consider how long you want your cave exploring expedition to be. If you need tour recommendations or help booking a cave exploring tour in the Algarve, we can help. Book with Unique Luxury Holidays and we'll do everything we can to make sure your Algarve adventure is one to remember — including finding the right cave exploration tour for you. Alternatively, take a look at our ultimate guide to things to do in the Algarve for more activity ideas for your Algarve holiday.