Pick your own figs from your own villa when you rent a Luxury Villa from Unique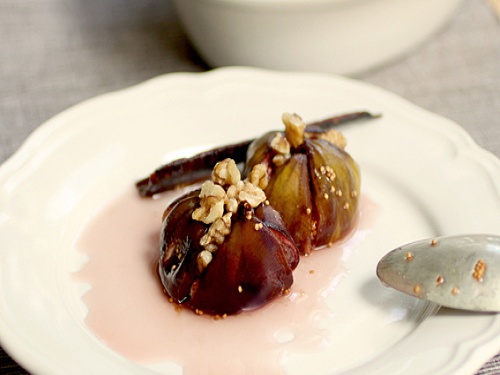 By Miguel de Almeiga our Portuguese foodie
The season to pick figs from your holiday villa is between July and August
Figs are such a summer staple throughout the south of Portugal, specially in the Algarve. They are delicious baked with some sort of fortified wine. I have chosen Moscatel de Setubal, which complements the delicate flavour of the fresh figs, making this the perfect for summer dessert.

Figs in Moscatel
Ingredients

6 fresh black figs
4 tbsp of Bacalhôa Moscatel de Setúbal
100 gr demerara sugar
Rind of 1 lemon
1/2 tsp of vanilla essence
1 tbsp of honey

Crushed walnuts to serve

Preparation
Pre-heat the oven at 190 degrees C
Slice the figs in quarters and place them upright in a oven proof dish.

Place all ingredients (apart from the figs) in a small pan and gently simmer for 15 minutes, til it resembles a syrup consistency Remove from the heat and drizzle the figs with it. Place the figs in the oven for 20 minutes. Remove from the oven, serve warm with some walnuts on top. You could serve them also with a dollop of Greek youghurt, which is quite a delicious combination.
Many of our gardens have fig trees in them including Villa Flor Da Rosa