We have a wide variety of luxurious villas, apartments and even townhouses available across the Algarve. You'll be delighted to find that no two properties are the same, with each being located in a different fantastic location and also offering a variety of different facilities and styles. One thing you will find goes across the board, however, is that each property we advertise is of nothing but the highest of standards.
Today, we would like to show you some of our favourite of these beautiful villas across the Algarve which have the most stunning views. Take a look and see which is your own favourite!
Located within the pristine Olhas D'Agua region, Casa Andre is known for its kaleidoscopic panoramic views as well as its contemporary flair. This 'Movie-Star' worthy villa is absolutely stunning. Offering no fewer than eight rooms, this villa provides immediate access to immaculate beaches and the cerulean blue waters of the Atlantic. From your room you'll admire those beautiful ocean views and those straight out onto the long stretch of sandy beach itself.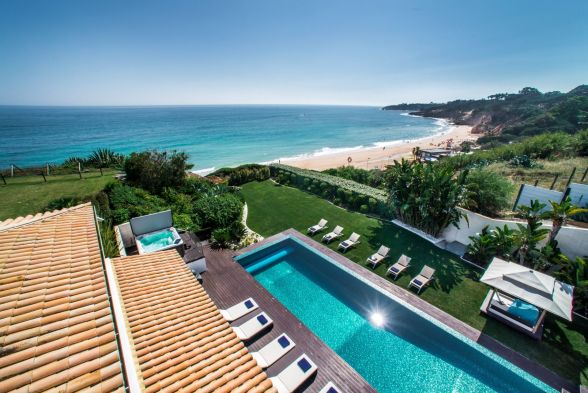 What could be more dreamlike than relaxing in an infinity pool, overlooking the beautiful blue of the Atlantic ocean?
This spectacular Moorish-style villa is a Moroccan wonderland, situated in Albufeira - just a short walk away from the beach. It not only offers five bedrooms with beautiful furnishings, but each floor of the property also features an incredible view either out towards the grounds and gardens or straight out to the ocean. The landscaped garden is perfect for sunbathing in as you dip in and out of the infinity pool, enjoying that spectacular ocean view.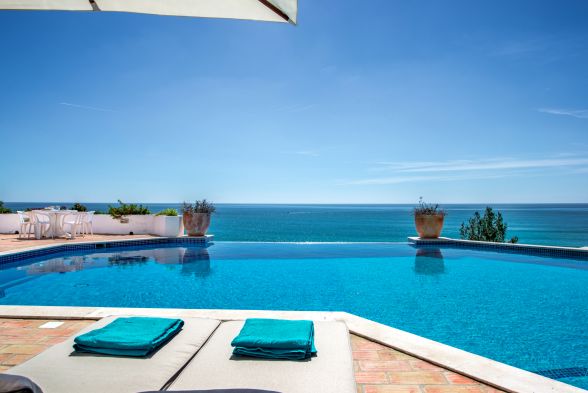 Of our luxury apartments and villas across the Algarve, this could well be one of the most relaxing. This tranquil nine bedroom property is situated in Almancil, within the Golden Triangle Estate, and features many beautiful countryside views in different directions. Located in an elevated position, you'll look out amongst the olive groves which offer a unique glimpse into the history of the area, whilst gazing across the valleys and hills. From the outdoor living area, you can see for miles and miles on end.
The perfect backdrop to a relaxing holiday, you'll love the countryside views found at Antonia.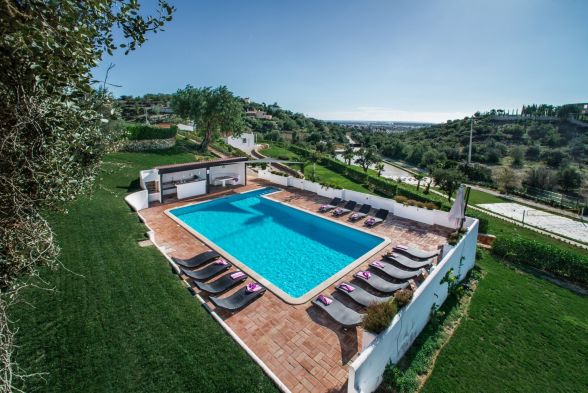 Villa Leah is found in Vale Do Lobo, situated just two kilometres from the beach. This beautiful five bedroom contemporary villa offers some incredible views across the nature reserve, where you can truly see some of the beauty of this part of the world. One of the main features found outside this property is it's private infinity pool. From this pool you'll be able to watch the sun set over the ocean, which is an incredibly relaxing experience. There's plenty of outdoor seating available for all guests to be able to enjoy the magnificent views found here.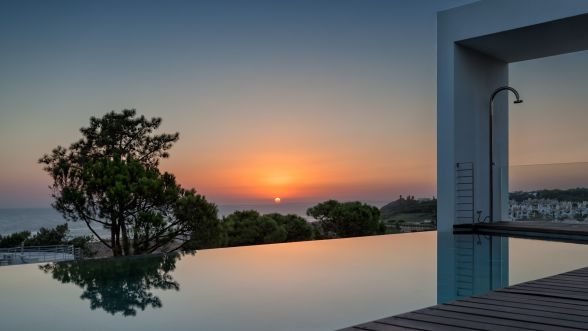 Amalia is a luxury modern villa, also situated in the majestic Vale Do Lobo. Situated upon a hilltop, from this perched position you'll be able to enjoy the extraordinary panoramic views across the Ocean. Whilst staying here, you'll also be able to take advantage of being just a short stroll from the beach and local shops. This villa is incredibly peaceful and from the balcony you'll be able to look straight down upon the sandy shores of the beach itself. Enjoy an al fresco meal outdoors or take a dip in the private pool as you take in these stunning views.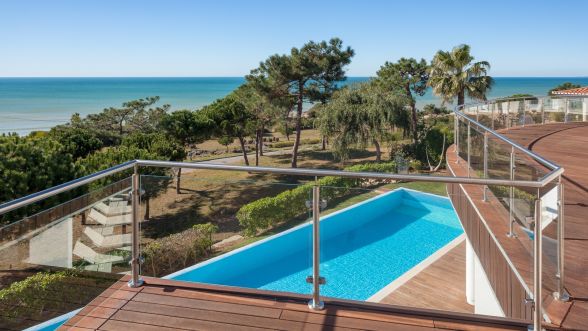 Coast gets it's name from being situated on just that. Surrounded by incredible views across the sandy shores and the blues of the ocean, you'll enjoy dining or relaxing on the balcony of this villa and gazing out across the beach. As far as our luxury villas in the Algarve with a sea view go, this may well be one of the best. Offering four bedrooms and an uninterrupted view of the nearby ocean, Villa Coast is a dream come true. This property offers all of the discretion that guests deserve and yet is only five minutes from restaurants and other attractions.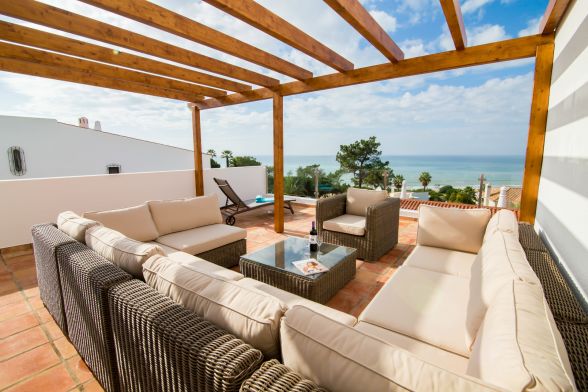 Translated as "View of the Sea", this villa is nestled within an 11-mile stretch of coastline close to all of those local amenities you may desire, such as The Praça restaurant district. Alternative activities such as golf are also only moments away. Boasting five well proportioned bedrooms, a beautifully well-maintained garden and a private swimming pool, there is plenty to be enjoyed here at this villa. What's most
outstanding about this villa however is not the facilities to be enjoyed within, but the incredible south facing views across the Atlantic Ocean. You'll be able to see for miles as you watch the sun set across the sea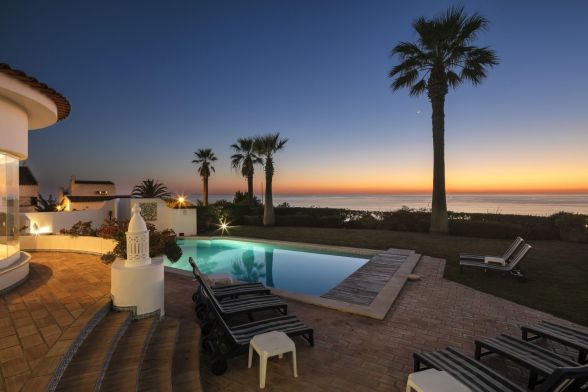 Casa Camila is an impressive luxury villa overlooking the beautiful Ria Formosa, a lagoon stretching for miles. So besides offering five large bedrooms, a modern sound system throughout the property to enjoy some holiday tunes and a fantastic location less than one kilometre from the beach, the wondrous views are a huge perk not to be overlooked. Enjoy some al fresco dining in the outdoor BBQ area as you enjoy the views outside in this magnificent villa.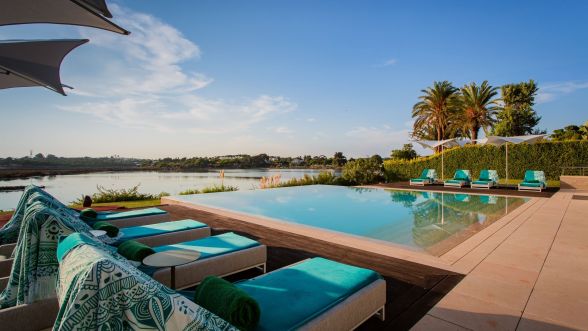 This beautiful five bedroomed villa offers views for miles across the Algarve's towns and villages, whilst also featuring a private pool overlooking the ocean for you to relax in. There is an outdoor dining area for those al fresco meals enjoying the views, whilst the glass-panelled walls will likewise provide splendid views of the nearby gardens. This is a villa worth visiting.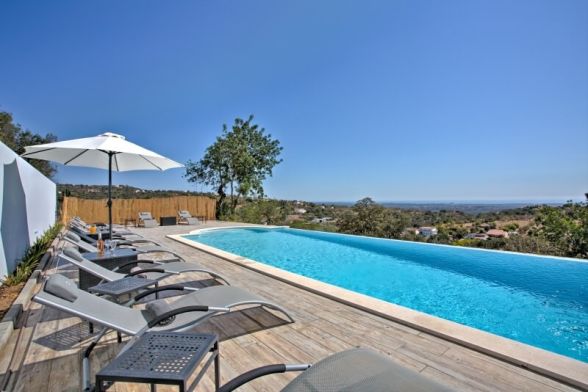 Paradise is definitely the correct name for this incredible villa. The property is situated on top of a large hill offering beautiful views for miles across the surrounding countryside, down to the sea. With it's own private landscaped gardens with a variety of tropical fauna further add to the allure of Villa Paradise, you'll enjoy every second of your time at this property. Take a dip into the private pool and enjoy those views as you watch the sun move across the clear blue skies. This really is a touch of paradise.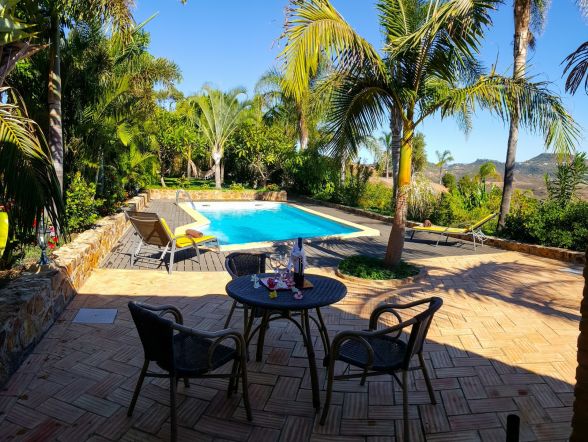 Unique Luxury Holidays has spared no expense in order to provide our guests with a bespoke sense of Algarve elegance. To learn more about these or other properties, please do not hesitate to contact us at your convenience.