Eight Relaxing Reasons To Visit The Algarve!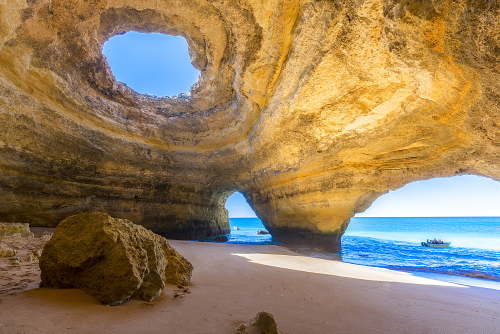 There are lots of things to see and do in the Algarve. If you like your vacation action-packed, then there are aqua parks, nightclubs, theme parks, surf lessons and plenty of shops. But if all you want is to unwind and relax, then there are just as many reasons to choose this coast as your holiday destination. Here are eight of our favourites:
1. The blissful climate.
The weather is perfect for all year round relaxation in the Algarve. During July and August, the temperature can climb into the 30s which is just what heat-seekers love, but visit the Algarve in May, June, September and October and the temperature stays comfortable at around 22 to 25 degrees. Even in the winter it rarely gets very cold, and it's common to get 5 or 6 hours of sunshine a day in December. This lovely weather is just perfect for long, leisurely al fresco lunches and afternoons spent quietly reading in the shade.
2. The beautiful beaches.
Laying on a lounger next to the sea is one of the most relaxing things to do on holiday. There are miles of golden sand along the coast of the Algarve, and each beach has something different to offer. There are beaches with plenty of space that rarely get overcrowded, which is just what you need to laze the days away. Look for your ideal beach when you're deciding where to holiday in the Algarve.
3. Delicious food.
Tasty food makes a holiday memorable, and lingering over a late lunch or dinner is a great way to unwind. The Algarve serves some of the best fish dishes you will ever experience and the sardines drizzled in olive oil and herbs are unforgettable. To sample something different, try petiscos - this is the Portuguese version of tapas. These little dishes, that are simple but packed with wonderful flavours, go down especially well with a local wine or ice-cold beer in the afternoon.

4. Wonderful day spas.
Spending the day at a spa is the ultimate in relaxation. There is a choice of five-star spas in the Algarve where you can enjoy being pampered from head to toe. At the Vale Do Lobo, the Royal Spa offers day passes and packages that include the indoor and outdoor pool, hot tubs, massages and a menu of treatments. Manicures, pedicures and a beauty centre are all available here as well. The Almond Tree Wellness spa in Vilamoura uses essential oils in their scrubs and body wraps, and The Conrad Spa has oxygen massages listed in its long menu of treatments on offer.

5. Wonderful nature parks.
Walking quietly in a nature reserve can bring peace and calm to the mind. The Ria de Alvor Nature Reserve is 1454 hectares of protected land that is host to migrating birds, plants and wildlife. There are also long boardwalks that are a pleasure to walk or cycle along in a leisurely way. Even at its busiest, the boardwalks are quiet and tranquil, and the reserve is of the lovely things to see and do in the Algarve.

6. Amazing golf.
The outstanding golf courses in the Algarve are legendary. For golf lovers, this is the best place to spend time unwinding. There are more than thirty courses along this coast and they are all stunning. The green fees are reasonable and there is plenty of equipment available to hire to make playing here a real pleasure.

7. Friendly hospitality.
The welcoming people of Portugal go out of their way to ensure your vacation is relaxing. They offer outstanding service and are always ready to help. The Algarve is one of the safest places to visit in the world.

8. Incredible accommodation.
Chilling out in a gorgeous villa away from the hustle and bustle is the perfect way to spend a holiday. Our luxury villas in the Algarve offer peace and tranquillity along with sparkling pools, manicured gardens and amazing views. When you are looking for where to holiday in the Algarve,let Unique make your holiday stress free.

Why not take a look through the selection of Villas we have to offer in the Algarve, or alternatively contact us today to find out more about the luxury experience we can provide.