Algarve Food And Drink: Everything You Need To Know
The Algarve is one of the most popular tourist destinations in Europe — and it's easy to see why. Famous for its glorious beaches and perpetual sunshine, it's a beautiful region for romantic breaks, family holidays, and golf breaks . It's also foodie heaven. The Algarve is home to some of the most delicious cuisine and highest-rated restaurants in Europe — so when you're planning your trip, make the most of the amazing Algarve food and drink on offer. In this ultimate guide to Algarve food and drink, you'll learn more about local Algarvian cuisine, how much you can expect to pay for a standard meal, and take a tour of some of the best restaurants in the region.
Algarve Local Cuisine
Algarvian cuisine is heavily influenced by its location and climate. The Portuguese south coast is just a few hundred miles from Morocco's northern coastline, and the North African influence is apparent in the spices and flavours used in Algarvian cooking. Bathed in sunshine and lined with fishing ports, the Algarve specialises in sunny maritime flavours. Here are some of the typical foods you can expect to sample in the Algarve.
Portuguese Food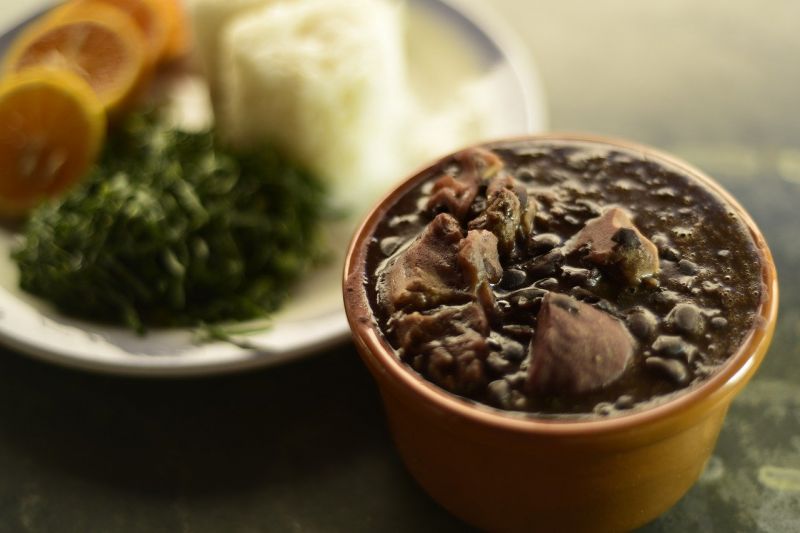 Seafood — this coastal region specialises in sumptuous prawns, clams, lobster, sea bass, monkfish, and lots of other delicious seafood
Pork — Portugal has a love affair with pork, from leitão (suckling pig) to presunto porco preto (Iberian ham)
Desserts — the famous pasteis de nata isn't the only dessert for sweet-toothed visitors to the region, with Algarvian specialties also available
Portuguese Wine, Beer And Spirits
Port — produced in northern Portugal, this famous fortified wine is prolific across the south coast, too
Wine — each of the Algarvian regions (Lagos, Portimão, Lagoa and Tavira) has its own wine variety, so the whole region is the perfect destination for wine lovers
Beer — the Algarve is home to many craft breweries producing their own distinct beers
How Expensive Is Food In The Algarve?
Despite being a hugely popular tourist destination, food prices in the Algarve are very reasonable. A meal for 2 in a budget restaurant costs around £9.30 (€11) on average, while a 3-course mid-range meal could be closer to £44 (€52). You can buy a cappuccino for as little as 84p (€1). Typical tourist restaurants found in popular Algarve resorts like Vilamoura are likely to have higher prices. If you're looking for great food on a budget, seek out restaurants that are popular with locals.
Top Foods To Try In The Algarve
Whether it's your first or your fiftieth visit to the Algarve, make sure you sample some of the delicious local cuisine. Here are our favourite foods to try from in and around the Algarve.

Cataplana — a pork and seafood stew stuffed with garlic, peppers and tomatoes. Arguably the Algarve's signature dish
Tarte De Amêndoa — this sweet, caramelised almond cake is a crunchy, moreish dessert
Feijoada — the original pork and bean stew that inspired the more famous Brazilian version
Tarte de Alfarroba — an almond cake with a rich, cocoa-like flavour from the carob pod, which is plentiful in the Algarve
Aguardente de Medronho — a brandy brewed from the fruit of the native Algarvian Medronho tree
Leitão — a suckling pig dish originating from Bairrada, a region on Portugal's western coast
Pasteis De Nata — to-die-for custard tarts that have become increasingly popular in the UK — but there's nothing like eating them in the Portuguese sunshine
Best Algarve Golden Triangle Restaurants
Many visitors to the Algarve choose to stay in the Golden Triangle region in and around Vilamoura, Almancil, and Quinta Do Lago. As a result, there are incredible restaurants in abundance here. From romantic restaurants to international cuisine, see all the best restaurants in the Algarve Golden Triangle.
Best Seafood Restaurants In The Algarve Golden Triangle
Algarvian seafood is second-to-none. Almost every restaurant you come across offers freshly caught fish and shellfish that seafood fans will love. Take a look at the best seafood restaurants in the Algarve Golden Triangle. .
Best Family Friendly Restaurants In The Algarve
The Algarve is a popular family destination — so it's no surprise they also have a great range of family-friendly restaurants .These cafes and eateries have play areas, children's menus, and can be found near popular family attractions
Michelin-Starred Restaurants In The Algarve
The Algarve is renowned for being densely packed with Michelin-starred restaurants. Here are some of the most popular Michelin-starred restaurants for when you're celebrating something special:

Ocean
Vila Joya

Bon Bon

Gusto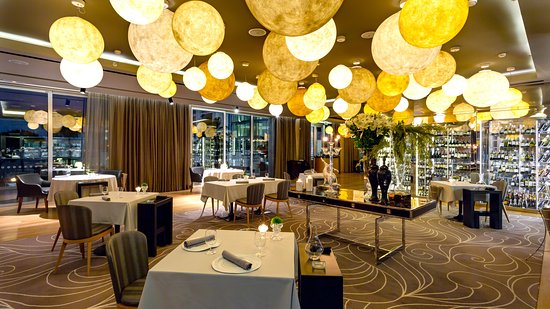 Find the full list of Algarve restaurants in the Michelin Guide
Is The Algarve Vegetarian And Vegan-Friendly?
Algarvian cuisine is rich in meat and seafood — so it's not the most veggie-friendly destination. However, there are usually a couple of vegetarian options on the menu, including salads, omelettes, and cheese-based dishes. Unfortunately local restaurants menus are more limited for vegans. Even though there are many vegetarian options, they usually contain eggs or dairy products. For a wider menu choice, your best bet is to take a look at restaurants that specialise in international cuisine. In particular, you'll find lots of brilliant Chinese, Japanese and Indian restaurants in the Algarve..
Useful Portuguese Phrases To Use In Local Bars and Restaurants
Although most people speak at least some English — especially in touristy areas like Vilamoura and the Algarve Golden Triangle — it's always useful to know some key Portuguese phrases.
Here are some useful phrases to use in bars and restaurants.
Eu tenho uma reserva — I have a reservation
Queria… — I would like…
Para comer queria... — To eat, I would like…
Para beber queria… — To drink, I would like…
Obrigado/Obrigada — Thank you (if you're a man/woman)
A conta, por favor — Please can I have the bill?
Book A Luxury Holiday In The Algarve
Inspired by thoughts of incredible marisco and sipping Port by the pool? Our extensive range of luxury Algarve villas are ready to make your dream holiday a reality. Browse our exclusive Algarve villas here. . .