Golf In The Algarve: Everything You Need To Know
The Algarve is one of Europe's most popular golfing destinations. With more than 30 golf courses, fabulous weather, and stunning scenery, it's the ideal place for a golf break. As with any holiday, a lot goes into planning a golf trip in the Algarve. We've compiled all the need-to-know information so you can plan your trip with ease and look forward to teeing off by the beach.
Why the Algarve is the ideal golf destination
If you haven't chosen where to go for your next golf break, the Algarve should be a strong contender.
It's home to: 30+ courses
Affordable green fees
Courses available to suit all levels
Golf academies led by pros and qualified coaches
Year-round sun and minimal rainfall
Views across sun, sea, and forest
Stunning villas situated near top golf courses
Green fees in the Algarve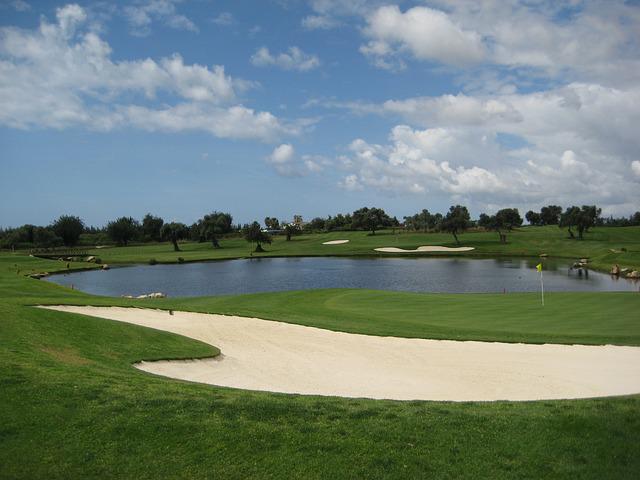 Golf clubs in the Algarve have very affordable green fees, with the average fee hovering around €80 (approximately £68). According to Golf In Portugal, green fees range from €25 to €175. In the UK, the average green fee to play a top 100 course is £167 — so you can play multiple rounds for the same price as a single round at home.
5 must-play golf courses in the Algarve
We've rounded up some of the most well-loved courses in the Algarve so you can take a tour of the very best. Here are the top 5:
Monte Rei Golf & Country Club, Vila Nova de Cacela
Palmares Golf, Lagos
Dom Pedro Old Course, Vilamoura
Faldo Course At Amendoeira, Alcantarilha
Royal Golf Course, Vale do Lobo
Find out more about these clubs and see all the best golf courses in the Algarve.best golf courses in the Algarve.
Golf academies in the Algarve
Many golf clubs also have golf academies, where you can brush up on your technique with a pro. Lessons are available for juniors, adults, and players of all abilities, so you can go home with a new and improved game. Some of the most popular golf academies in the Algarve are: Peter Lester Golf School, Vilamoura Penina Golf Academy, Portimao Quinta Do Lago Golf Academy Get great tips from professional players and qualified coaches from any golf academy in the region.
Accommodation for your Algarve golf break
When you know which courses you want to play, you can start planning where to stay on your golf break. Most golf groups rent a private villa for the duration of their stay, as it offers privacy and luxury at an affordable price. At Unique Luxury Holidays, we find the very best villas close to some of the top courses in the region to accommodate golf groups. Here are some of our favourites:
Villa Zara — 0.3 miles from San Lorenzo Golf Course, Quinta Do Lago
Casa Panorama — 0.8 miles from the Royal Golf Course, Vale Do Lobo
Villa Jewel — 1.8 miles from Dom Pedro Old Course, Vilamoura
Many of our best golf courses in the Algarve. Algarve villas have jacuzzis, private pools, and incredible views. See how to find your perfect villa rental in the Algarve. best golf courses in the Algarve.
Algarve golf break FAQs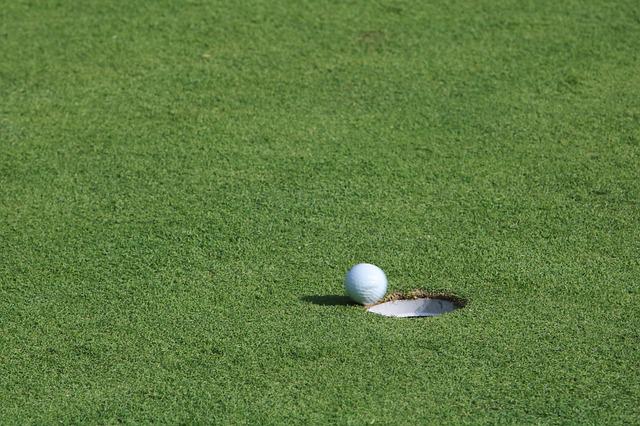 What's the best time of year for an Algarve golf break?
Peak months for Algarve golf breaks are usually April/May and September/October. The days aren't quite as scorching as the summer months, so most golfers prefer to play in these cooler climates. As a result, many clubs hike up their green fees for these months.
If you decide to travel in June, July, or August, it's best to book tee times in the early morning or late afternoon to avoid the hottest times of the day. Flight prices are also high during these months, thanks to school holidays. If you're lucky with the weather in November, this can also prove a good month to play, as green fees are substantially lower than the rest of the year. Many courses close over winter (December to February) for maintenance.
What are the average flight prices to Faro airport?
On average, a one-week round trip from London Heathrow to Faro costs:
Spring: £181 Summer: £189
Autumn: £109
Winter: £105
Bear in mind you'll also need to pay for additional baggage to travel with your golf clubs. This typically costs around £30-40 with budget airlines like Ryanair, Easyjet, or Jet2.
Where should I stay in the Algarve?
The Golden Triangle of Vilamoura, Almancil, and Quinta Do Lago/Vale Do Lobo is one of the most popular places to stay in the Algarve region. As well as some fabulous golf courses, it's also home to gorgeous beaches, plenty of fantastic restaurants, and tons of fun things to do.
Is it easy to take golf clubs on a plane?
Yes — just make sure you select the relevant option when booking your flight. Some airlines may charge more if you don't add this at the time of booking, or if your golf clubs exceed the maximum weight allowance. Check your airline's website for current weight restrictions and fees. It's also a good idea to arrive at the airport in plenty of time to check your baggage.
How far is my accommodation from the airport?
You can reach many of the most popular destinations from Faro airport in less than an hour. Here are some of the most common destinations and the driving time from Faro airport: Vilamoura, Almancil, and the Golden Triangle: 25 minutes Alcantarilha: 40 minutes Vila Nova de Cacela: 45 minutes Lagos: 1 hour To ensure availability, it's a good idea to book airport car hire online in advance.
Other things to do in the Algarve
Golf may be the overarching reason for your trip to the Algarve — but while you're here, there's so much more to see and do. From snorkelling to jet boat rides, seafood to theme parks, find out what else the Algarve has to offer.
Ready to book your 2022 Algarve golf break?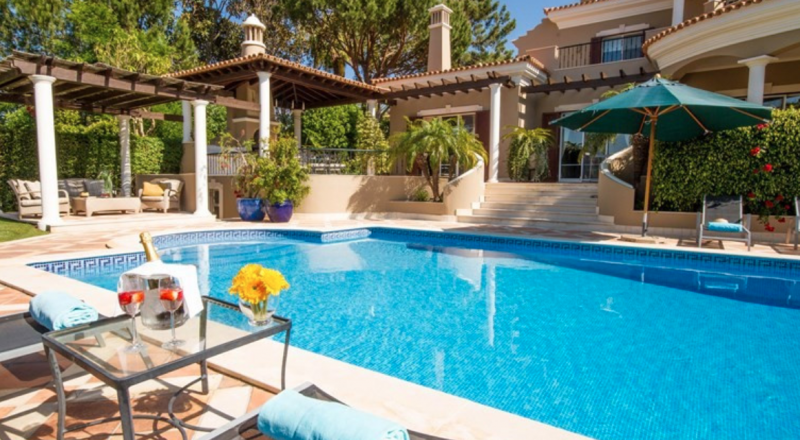 We've helped dozens of golf groups find their ideal accommodation. Browse our selection of luxury Algarve villas, then get in touch to make your booking.