10 Stunning Algarve Villas With Private Jacuzzis
Dreaming of a summer holiday where you can kick back in your very own private jacuzzi? So are we. Luckily, we've got plenty of gorgeous Algarve villas where you can do just that. Take a peek at some of our favourite villas with private jacuzzis and hot tubs in the Algarve.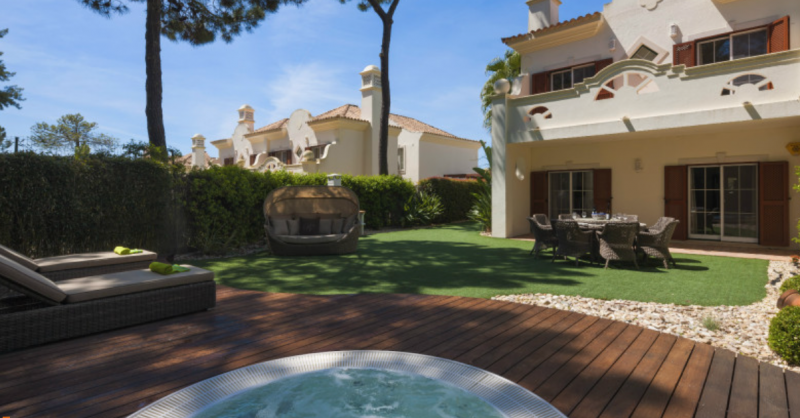 Bedrooms: 3
Highlights: Communal pool, air conditioning, barbecue
Looking for an intimate spot where you and a few friends can escape the chilly British weather? This villa is the perfect place. It's pretty yet unassuming, with modern decor and all the amenities you need. The jacuzzi is the perfect way to warm up after a dip in the communal pool.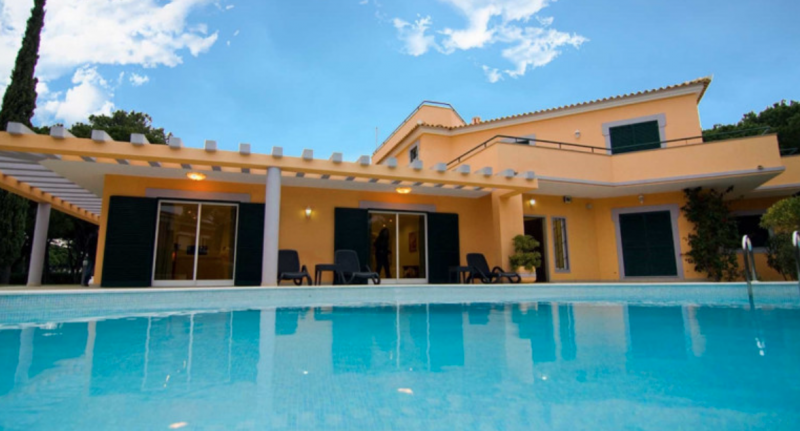 Bedrooms: 5
Highlights: Snooker table, private pool, barbecue
Villa Calmo overlooks Pinhal golf course, so it's the ideal base for a golf group. After a long day out on the course, you can relax in the inviting jacuzzi, which is adjacent to your very own private pool. With spacious enclosed gardens, it's also a fantastic villa for families.
Bedrooms: 4
Highlights: Fireplace, private pool, on-site spa
Based in the gorgeous Pine Cliffs resort, you'll get all the convenience of a resort holiday with the privacy of a villa at Villa São Pedro. You can access the communal gym and spa, then dine and dip in your private garden and jacuzzi. This modern, glamorous villa is the ideal spot for couples or groups.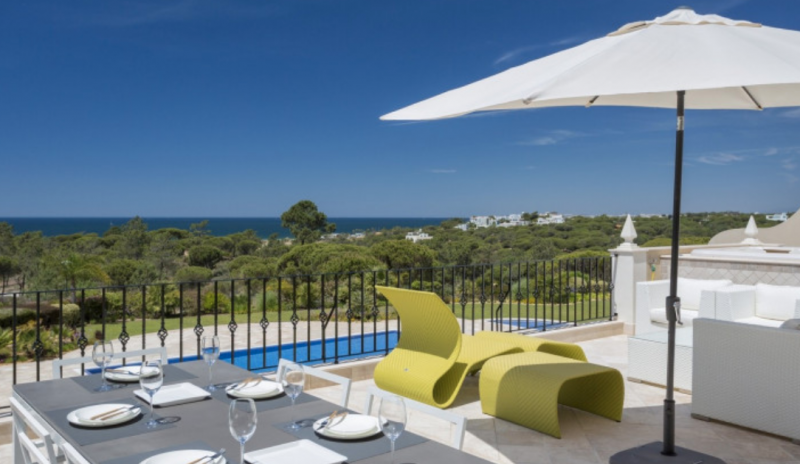 Bedrooms: 2
Highlights: Sea views, balcony, communal pool
Though not strictly a villa (this is a penthouse apartment), you'll never tire of the stunning views from Vista Pinhal. Look out across the Algarve's stunning countryside, and beyond to the azure Atlantic. As well as a private hot tub on the terrace, you can take a dip in the large pool below, which is shared with other guests in the building.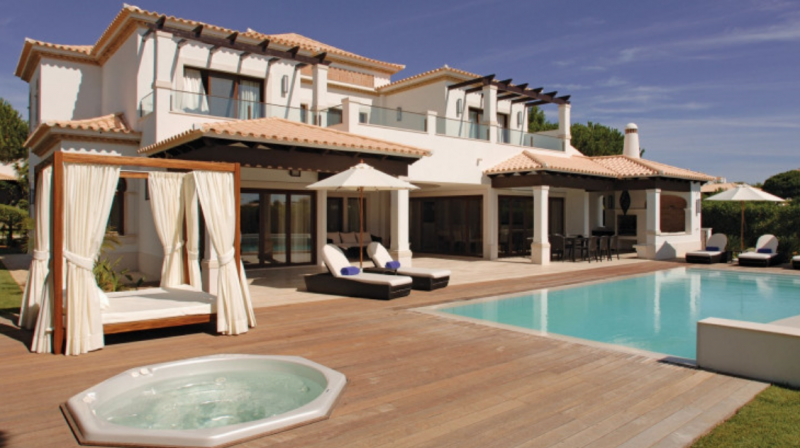 Bedrooms: 4
Highlights: Heated pool, roof terrace, communal tennis courts
Villa Retreat is also part of the luxury Pine Cliffs resort, so you can take advantage of the leisure facilities and security offered by this setting. As well as a jacuzzi, this villa has a stunning rooftop terrace, which is the perfect place to unwind after a day of golfing, surfing, or snorkelling.
Bedrooms: 4
Highlights: Heated pool, roof terrace, air conditioning
Orchid is a beautiful modern villa. The infinity-style pool wraps around the building, while the jacuzzi itself sits atop the rooftop terrace. Pour a glass of champagne and sip it under the stars — it's a truly romantic way to spend an evening with your loved one.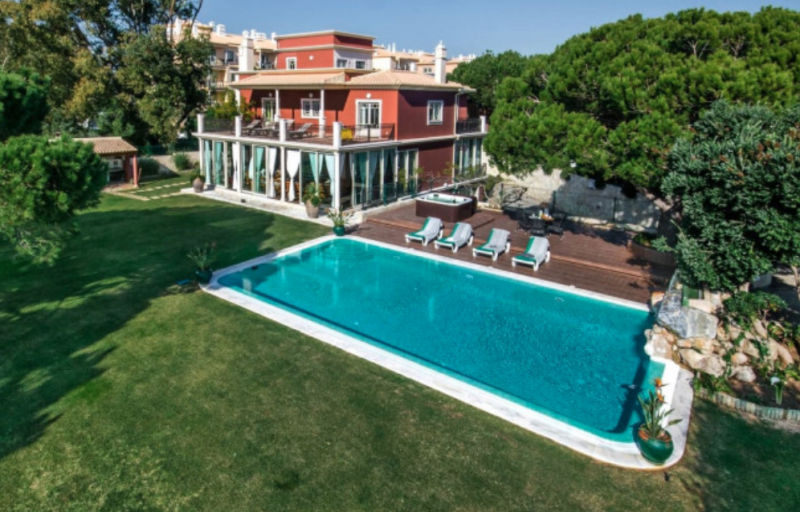 Bedrooms: 6
Highlights: Sea views, roof terrace, heated pool
This villa has traditional Algarvian beauty, with a gorgeous maroon facade that looks almost majestic. The unique balconies are a fabulous place to sit and read a book or sip a cocktail. Find the jacuzzi near the pool, overlooking the sea and the incredible Algarvian countryside.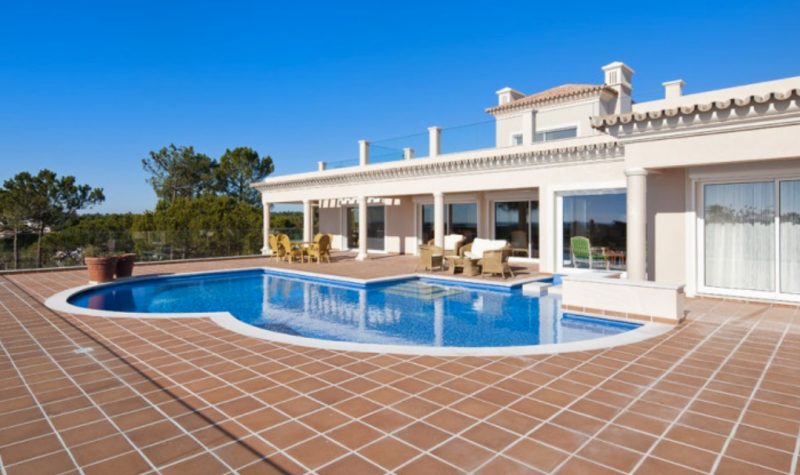 Bedrooms: 6
Highlights: Two pools, gym, pool table
Villa Splendido is located close to the Quinta Do Lago lake, where you'll find tons of brilliant family-friendly activities to keep you busy. There are 2 private pools, so there's plenty of space for the whole family in this sprawling villa. The terrace jacuzzi is a fantastic place to unwind after a day trip.
Bedrooms: 6
Highlights: Underwater music system, wood burning stove, air conditioning
Villa Pez has everything you need — and a whole lot more. From its pool jet streams to underwater sound system, the owners of this gorgeous villa have thought of everything. There's also a hammock, and a shaded seating area for when you need a reprieve from the glorious Algarve sunshine.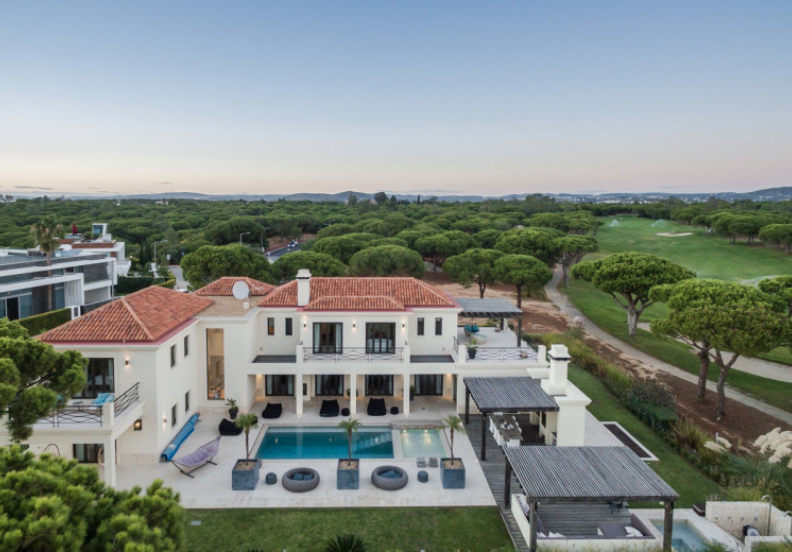 Bedrooms: 6
Highlights: Sauna, cinema room, heated pool
This vast villa is beyond luxurious. With sprawling grounds, a cinema room, and impeccable decor, you'll never want to leave Casa Panorama. The indoor jacuzzi sets it apart from other villa listings, giving you a place to relax in the unlikely event of a summer shower. As the name suggests, Casa Panorama also offers beautiful views of local golf courses, countryside, and the sea.

Book your dream Algarve vacation with Unique Luxury Holidays
We specialise in sourcing the best villas in the Algarve, and helping you tailor-make your holiday so it's practically perfect. You'll find plenty more gorgeous Algarve villas in our collection — take a look here.